Greetings from New Orleans!
As the proud Program Director of the LSU Medicine/Pediatrics Residency Program in New Orleans, I personally welcome you to our wonderful city that never sleeps. Not only do our residents receive an outstanding educational experience at LSU, but they also have the luxury of spending their free time with so many fun things to do with their friends and colleagues. There truly is never a dull moment here, and we would be delighted to share our experiences with you. Before you browse our website, I'd like to highlight the top ten reasons you should choose our Med/Peds program:
(1) My program has the absolutely BEST residents and faculty in the country! They are consummate professionals who are selfless, dedicated, caring, and passionate about patient care and medical education. I am so lucky to work with such a wonderful group of young men and women whom I proudly call my family.
(2) Our commitment to community service is unparalleled. Since November 2007 our residents and faculty have demonstrated a commitment to giving back to our community by volunteering each Tuesday, rain or shine, from 6-pm in the heart of New Orleans. Although purely voluntary, the faculty and residents have enthusiastically contributed their free time to help those who need medical services but can't afford to pay for these services. Since July 2012, our fabulous Medicine/Pediatrics Interest Group (MPIG) students have started to volunteer with our residents. We are so excited to be celebrating the 14th Anniversary of Luke's House in November 2021. Our residents work in the Homeless Clinic during their Ambulatory rotations alongside our LSU medical students. 
(3) We have a state-of-the-art simulation center where you can practice your intubation and resuscitation techniques and procedure skills including: central lines, lumbar punctures, ultrasound, venous and arterial punctures, and pediatric and adult mock codes.
(4) We know how to work, but we also know how to have fun – a lot of fun, with our awesome categorical Internal Medicine and Pediatrics colleagues!
(5) Residents actually have true continuity at their continuity clinics!
(6) Resident input really matters ; as a matter of fact, residents definitely have input into their custom-made schedules.
(7) Graduates have three times more fun by attending three graduation celebrations given by Med/Peds, Internal Medicine, and Pediatrics!
(8) We have the most incredible people, food, and entertainment in the world! I bet you can already taste those scrumptious charbroiled oysters and yummy shrimp po-boys!
(9) New Orleans has over 130 festivals per year! French Quarter and Jazz Fest in late April and early May, Ponchatoula Strawberry Fest, St. Bernard Crawfish Fest, and the greatest celebration on earth – Mardi Gras!
(10) We have the most awesome program coordinator, Vilma Cervantes, who has successfully completed not one, two, or three, but FOUR Iron Woman races with the most recent in Canada in September 2012 with an amazing time of 12:15! She definitely rocked that race when compared to her Madison, Wisconsin race on September 2008 which she completed in 13:31:48. She can definitely give you a few pointers!
I truly hope that you get the opportunity to visit the Big Easy and experience this amazing city for yourself. We welcome you with open arms and hope that we can personally showcase why we love our city and our program so much! Please call our office 504-568-3792 for additional information or call me personally for any questions at 504-415-8498.
Warmest Wishes,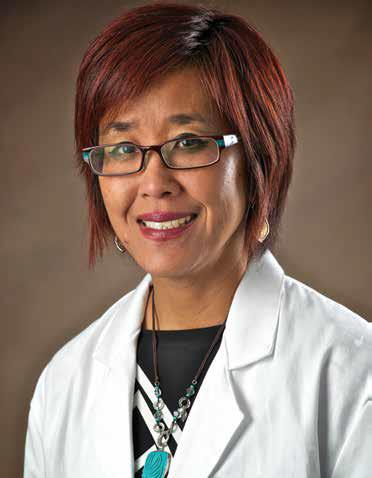 Betty Lo-Blais, MD
Residency Program Director
LSU Medicine/Pediatrics
Program Director Transition
It is with both sadness and excitement that I inform you that I will be transitioning my position as the LSU Medicine/Pediatrics Program Director that I have held since 1999 to my Associate Program Director, Dr. Katie Brown effective July 1, 2021.   As the first and only combined Med/Peds Program Director at the LSU Health Sciences Center, I can honestly say that being the director of this program has been an extraordinary privilege, blessing and an honor with unbelievable memories that I will treasure for a lifetime. I am beyond excited for the next chapter of the LSU Medicine/Pediatrics program as Dr. Brown brings her unique talents, ideas, and contagious enthusiasm to ensure that LSU Medicine /Pediatrics remains a powerhouse program that honors its unwavering commitment to provide both outstanding residency training and compassionate care for all patients.
Thoughts on COVID-19
I am always proud to be the LSU Medicine/Pediatrics Program Director, although I have never been prouder of the humanity, altruism, compassion, and resilience that my interns and residents demonstrated during the peak of COVID-19 pandemic. New Orleans was among the first major U.S. cities to bare the tremendous burden of the pandemic likely related to thousands of natives and tourists that celebrated Mardi Gras in the Big Easy. Our residents comprised the first front-line medical personnel who risked their lives to ensure all patients would receive the most comprehensive medical care available. Fully aware that there were no proven effective treatments to treat COVID-19 besides supportive care, our residents courageously volunteered to work with the teams managing the sickest patients including the Medical ICU, Emergency Room, Cardiology, and Nephrology. Some interns and residents that were originally assigned to pediatrics rotations eagerly volunteered to work at our flagship adult hospital, UMC, since they wanted to play an integral role in patient care despite the fact that they would be immersed in a milieu of death and dying. 
I can honestly say these COVID heroes - my personal heroes - epitomize the essence of what it means to be a physician's physician. I whole-heartedly trust them to take care of my family members and am honored to call them my family.