---
Dear Prospective Resident (A Message from Our Chief Residents),
Thank you for your interest in the LSU Baton Rouge Psychiatry Residency Program. We are very excited to tell you about our program, and to hopefully meet you in the future! We want to share our experience as residents and expand on the opportunities our residents have.
During our first year, we spend 6 months on inpatient psych and 6 months off-service.  We try to make our incoming interns feel welcomed and part of the family by having multiple events throughout the year, such as the intern retreat in the Fall. The interns have a day where they are excused from all clinical duties and choose an activity that promotes camaraderie. Previous intern retreats include trips to New Orleans, kayaking, swamp tours and camping. We also have an additional retreat that includes the entire residency in the Spring. We have also tried to have events on Zoom this year due to social distancing rules, and have hosted JackBox nights to help bring everyone together.
In our second year , we have a diverse set of rotations, generally hospital based (see video below for more details).  You also start having therapy, and outpatient medication patients this year. Psychotherapy training is highly valued in our program. I really appreciate that our program has gradually been increasing our exposure to therapy early on to help us prepare for our third year, where we encounter and engage in different types of therapy.
You will spend the majority of your PGY-3 year in the outpatient clinic , located on the main campus of Our Lady of the Lake.  This is the year that you will begin having your own patients and are responsible for all forms of patient management, including medication management, referrals, and psychotherapy. Third year is often very highly rated by residents as it represents a significant transition in becoming an independent practicing physician.  
Your fourth year of training here is essentially "what you want it to be."   With the exception of a few required rotations (women's health, disability evaluations, and the community clozapine clinic), you have the freedom to select which rotations are of particular interest to you.  This year is the first year that the residents have worked at the VA (once per week) in order to gain additional outpatient experience in another setting with a patient population that we typically do not have the opportunity to see in the residency clinic.  
We are incredibly excited that you are considering LS U Baton Rouge for your Psychiatry training. We are especially proud to be part of the LSU BR Psychiatry Residency and would feel honored to have you join our family.
Sincerely,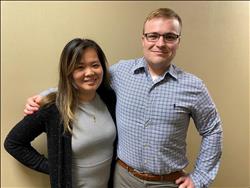 The Chiefs
Stephen Deweese, MD and Caroline Fu, DO
PGY 1
PGY 2
PGY 3
PGY 4