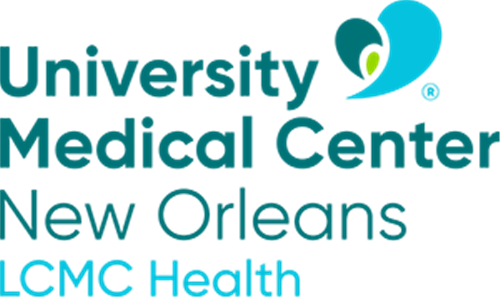 University Medical Center New Orleans (UMCNO)
UMCNO is a 468-bed hospital and outpatient clinic equipped with advanced imaging and intervention equipment including a hybrid operating room/angiography suite, multidisciplinary angiography suites, dedicated IR CT, ultrasound, and fluoroscopy suites, IR preop and recovery nurses, IR nurse navigators, and IR physician assistant.  With over 650 staff physicians and 2700 employees, UMCNO is the only Level 1 Trauma Center and Burn Center in the area.  In addition, UMCNO serves as the safety net referral center for the state of Louisiana, portions of Mississippi, and as a tertiary care center within the LCMC system of hospitals.  UMCNO also serves as a training site for more than 1000 physician trainees annually from both LSU and Tulane University.  

Southeast Louisiana Veterans Health Care System (SLVHCS)
SLVHCS in New Orleans is a center of care for our veterans in the region.  The Veterans Affairs system has invested more than $1 billion into this all-new facility that began inpatient care in 2017.  With state of the art equipment, this modern facility provides outstanding care in the New Orleans biomedical district and is located across the street from the $1.2 billion University Medical Center New Orleans.    The new hospital and clinic were designed to meet the full array of VA missions: education, research, national emergency preparedness and assistance.  

Children's Hospital New Orleans (CHNOLA)
CHNOLA is a 229-bed, not-for-profit pediatric medical center offering a complete range of healthcare services for children from birth to 21 years. With over 40 pediatric specialties and more than 400 physicians, Children's Hospital is the first and largest full-service hospital exclusively for children in Louisiana and the Gulf South.  Critical care is provided in the hospital's 36-bed Neonatal Intensive Care Unit (NICU), 24-bed Pediatric Intensive Care Unit (PICU), and 20-bed Cardiac Intensive Care Unit (CICU), the only one dedicated entirely to the care of Cardiac patients from birth to Adulthood in the state.  The hospital's Jack M. Weiss Emergency Care Center, one of the area's busiest emergency rooms, is staffed around the clock by board-certified Emergency Care physicians, with the availability of a full range of pediatric specialists. The Emergency Department has a total of 35 exam rooms and is supported by a nursing staff specially trained to handle pediatric emergencies.  The CHNOLA mission is to provide comprehensive pediatric healthcare that recognizes the special needs of children through excellence and continuous improvement of patient care, education, research, child advocacy and management.

Louisiana Children's Medical Corporation (LCMC) Health
LCMC Health is a New Orleans-based, non-profit health system on a mission: to provide the best possible care for every person and parish in Louisiana and beyond, and to put a little more heart and soul into healthcare along the way. With the highest quality and expertise for every health need, we've got one-of-a-kind care for every body.