The LSU Internal Medicine Residency in Baton Rouge
Research and Scholarly Activity
Research and Scholarly Activity
The LSU IM Residency Program encourages and provides ample opportunities for research and other forms of scholarly activity.  Our faculty's efforts focus on clinical and translational research, medical education, and quality improvement projects. Residents have the opportunity to do a one-month research elective during the second half of their PGY-1 year, and during their PGY-2 and PGY-3 years.  Current examples of our residents' scholarly activity range from resident-led quality improvement projects to industry-sponsored clinical trials.
Our faculty's broad array of interests and unwavering support fosters each resident's growth as a critical thinker and establishes an environment conducive for idea development, investigation and dissemination of their findings.  This element of our program develops and enhances residents' skills in project development, implementation, composition, and submission.  Residents, in collaboration with a faculty mentor, are expected to submit at least one scholarly piece for publication or presentation prior to completion of residency.  This can be in the form of (1) an abstract or case report, (2) a journal article submitted for publication, (3) the presentation of results of a research project, or (4) the submission for publication of a critical analysis.  Several of our residents have been awarded grants for their research. For those residents who have scholarly activity accepted for presentation at a regional or national meeting, they are often sponsored by the residency program to attend the meeting.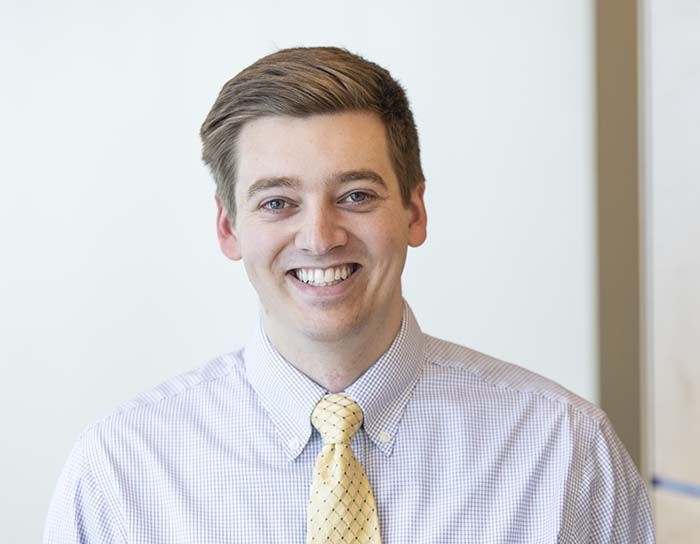 The Activity and Mobility Promotion (AMP) Multi-Center Study.
Dr. Alex Hosse (c/o 2022) is one of three individuals chosen as a Quality Scholar at Our Lady of the Lake Regional Medical Center in Baton Rouge. The year-long Quality Scholar's program provides our LSU residents an opportunity to develop and implement processes focused on system wide quality improvement. As a Quality Scholar, Dr. Hosse's efforts are a part of our hospital's participation in The Activity and Mobility Promotion (AMP) Multi-Center Study. Dr. Chris Thomas is Alex's faculty mentor and is one of the study's primary investigators. Dr. Thomas serves our residency program as an Assistant Professor of Clinical Medicine in Pulmonary & Critical Care, and our hospital as the Medical Director of System Quality and Patient Safety for the Franciscan Missionaries of Our Lady Health System.
The goal of the AMP study is to decrease complications due to immobility by improving the functional status of patients. Quality metrics to be analyzed include length of stay, the frequency of readmissions, post-acute care utilization, and long-term physical impairment. Alex's role as a Quality Scholar involves working with an interdisciplinary team to practically implement his project and evaluate outcomes in real time to accomplish the aforementioned goals.  
Our program's primary training site was one of three institutions selected to participate in the AMP study from an applicant pool of over 60 medical centers. Per the study leaders at Johns Hopkins, our selection was based on the following: Our recent participation in the ACGME's Pursuing Excellence Initiative, our Magnet status, our current interdisciplinary quality infrastructure, and the robust research capability demonstrated currently by prior and ongoing research endeavors.
IMPACTS-MIND Study
"I am thrilled to be a participating site for the IMPACTS-MIND study, which is evaluating the effect of intensive hypertension control on slowing cognitive decline. In addition to studying a highly relevant topic, I am excited to participate in a study that has the opportunity to not only enhance the care provided to our patients, but also educate residents and clinicians regarding best practices for management of hypertension that can then be carried forward to their future practices."
- Dr. Carl Giffin
Associate Program Director
LSU Internal Medicine Residency in Baton Rouge
Disparities in hypertension control remain a major clinical and public health problem, especially in the South, where mortality from CVD is high and the rate of controlled hypertension is low. Effective, adoptable, and sustainable strategies for implementing intensive BP treatment programs aimed at reducing health disparities in BP control and the burden of CVD in rural, low-income, and minority populations are needed. Those living in the stroke belt, including Louisiana and Mississippi, also have the greatest burden of cognitive impairment and dementia in the US.
The IMPACTS (Implementation of Multifaceted Patient-Centered Treatment Strategies for Intensive Blood Pressure Control) study will test the effectiveness of a multifaceted implementation strategy for intensive BP treatment and the acceptability, adoption, feasibility, fidelity, and sustainability of the strategy in populations with health disparities. In addition, the impact of intensive BP treatment on slowing cognitive decline will be assessed. The IMPACTS study is being conducted in collaboration with 36 primary care clinics in the South, including an LSU clinic based at Our Lady of the Lake Regional Medical Center in Baton Rouge.

(L to R) Carl Giffin (Associate Program Director), Cassie Clark (c/o 2024), Haider Mir (c/o 2024), Taylor Roussel (c/o 2024), and Satvi Uppu (c/o 2023) will be the residency program's participants in the IMPACTS-MIND study.
Faculty Interests
Cardiovascular disease and health disparities

Social determinants of health and health behaviors

Bone Metabolism during spaceflight

Acute Kidney Injury and diagnostics

Sepsis and diagnostics

Infection control and quality improvement

Graduate Medical Education
A Sample of Peer-Reviewed Publications:
Caffery TJ, Jagneaux T, Jones GN, Stopa E, Freeman N, Quin CC, Long AC, Zatarain L, Musso MW. Residents' Preferences and Performance of Three Techniques for Ultrasound-Guided Central Venous Cannulation After Simulation Training. Ochsner J, 18(20):146 – 150. PMID:30258296 
Crawford K., DeWitt A, Brierre S., Caffery T, Jagneaux T, Thomas C, MacDonald M, Tse H, Shah A, Di Carlo D, O'Neal, HR. Rapid Biophysical Analysis of Host Immune Cell Variations Associated with Sepsis. Am J Respir Crit Care Med, 198(2): 280-282 PubMED ID: 29630392
Jeha GM, Wesley T, Cataldo VD. Novel Translocation in Acute Myeloid Leukemia: Case Report and Review of Risk-Stratification and Induction Chemotherapy in Patients With Acute Myeloid Leukemia. J Hematol. 2020;9(1-2):13-17. doi:10.14740/jh605
Kinnucan J, Binion D, Cross R, Evans E, Harlen K, Matarese L, Mullins A, O'Neal B, Reiss M, Scott FI, Weaver A, Rosenberg J. Inflammatory Bowel Disease Care Referral Pathway. Gastroenterology. 2019 Jul;157(1):242-254.e6. doi: 10.1053/j.gastro.2019.03.064. Epub 2019 Apr 10.PMID: 30980795
M. Foy, J Vaishnav, CJ. Sperati. Drug-Induced Hypertension. Endocrinol Metab Clin North Am, 48(4): 859-873. PMID 31655781
Mukku VK, Cassidy E, Negulescu C, Jagneaux T, Godke J. Large Spontaneous Right Catamenial Pneumothorax with Diaphragmatic Defect and Liver Herniation. Case Rep Pulmonol, 2019(5). PMID: 31263617
Walker, M., Hamer, D., Musso, M., O'Neal, C., Thomas, C., & O'Neal, H., Jr. (2018). 2151. Accuracy of Physician Adjudication of Infection in Patients with Systemic Inflammatory Response Syndrome (SIRS). Open Forum Infectious Diseases, 5(Suppl 1), S633–S634. PMCID: PMC6252822
Walker, M., Sheets, J., Hamer, D., & O'Neal, C. (2018). 2052. Performance of the Biofire Filmarray Meningitis/Encephalitis Panel in Cryptococcal Meningitis Diagnosis. Open Forum Infectious Diseases, 5(Suppl 1), S599. PMCID: PMC6252391
Wesley T, Hamer D, Karam G. Implementing a narrative medicine curriculum during the internship year: An internal medicine residency program experience. Perm J 2018;22:17-187. DOI: https://doi.org/0.7812/TPP/17-187
A Sample of Conference Presentations:
Berlinger, M., Hamer, D., Musso, M., Walker, M., Bliss, K., Volz, E., Laurent, M.E., Caffery, T., Alwood, S., Brierre, S.A. and Jagneaux, T, 2019. Systematic Use of Lactic Acid Levels to Comply with Sepsis Guidelines May Result in Overtreatment of Non-Septic Patients. In D104. CRITICAL CARE: A FINE BALANCE-SEPSIS DEFINITIONS, OUTCOMES AND EPIDEMIOLOGY (pp. A7154-A7154). American Thoracic Society. May 22, 2019
Bourgeois, D, Thibodaux, R. HINTS TO A DIAGNOSIS OF MULTIPLE SCLEROSIS 2019 National American College of Physician's Meeting. April 23-25, Philadelphia, PA.
J. Hoang, D. Hamer, M. Musso, C. Thomas. "Heroin Overdose: demographics, treatments, and outcomes from an ICU perspective. 202 Critical Care Congress, Orlando, FL.
K. Bliss, D. Hamer, M. Musso, M. Berlinger, M. Walker, M. Sanchez, S. Alwood, T. Caffery, C. Thomas, B. O'Neal. Disparities in Emergency Department Presentation of Sepsis by Race and Block". ACEP, Denver, CO.
M. Walker, S. Buras, M. Young, B. Mellor, M. Mitchell, C. O'Neal. "Implementation of a multi-step diagnostic algorithm for C. diff infection". IDweek 2019, Washington, DC.
Rauch T, Tatum D, Clark S. The Impact of Frequent Phlebotomy in a Testosterone Therapy Donor Population. 2018 AABB Annual Meeting, October 13 – 16 2018, Boston MA.