The LSU Internal Medicine Residency in Baton Rouge
Research and Scholarly Activity
Research and Scholarly Activity
The LSU IM Residency Program encourages and provides ample opportunities for research and other forms of scholarly activity.  Our faculty's efforts focus on clinical and translational research, medical education, and quality improvement projects. Residents have the opportunity to do a one-month research elective during the second half of their PGY-1 year, and during their PGY2 and PGY-3 years.  Current examples of our residents' scholarly activity range from resident-led quality improvement projects to industry-sponsored clinical trials.
Our faculty's broad array of interests and unwavering support fosters each resident's growth as a critical thinker and establishes an environment conducive for idea development, investigation and dissemination of their findings.  This element of our program develops and enhances residents' skills in project development, implementation, composition, and submission.  Residents, in collaboration with a faculty mentor, are expected to submit at least one scholarly piece for publication or presentation prior to completion of residency.  This can be in the form of (1) an abstract or case report, (2) a journal article submitted for publication, (3) the presentation of results of a research project, or (4) the submission for publication of a critical analysis.  Several of our residents have been awarded grants for their research. For those residents who have scholarly activity accepted for presentation at a regional or national meeting, they are often sponsored by the residency program to attend the meeting.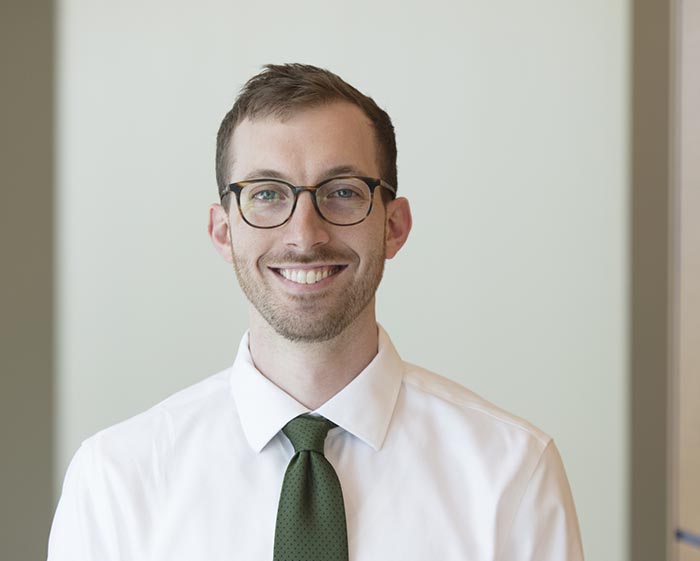 Dr. Hartman Brunt
3rd-year Resident
Monitoring Ulcerative Colitis & Crohn's with a Standardized Approach (MUCCoSA)
There is currently no standard of care for therapeutic drug monitoring in patients with ulcerative colitis, which inevitably results in variability in provider approaches to care for these patients.  Current guidelines offer broad recommendations while acknowledging there is still a need for prospective, real-world studies to reach a defined standard.  MUCCoSA aims to assess the current care of IBD patients in the community and perform studies under a framework that will help define a standard of care.  Specific projects emanating from the MUCCoSA framework include:
Retrospective assessment of practice patterns with infusion-based drug therapeutic monitoring in community GI practices

Prospective studies to define surrogates for endsoscopy and predictive markers for therapeutic response to infusion based therapeutics

Creation and implementation of a therapeutic drug monitoring clinical decision support tool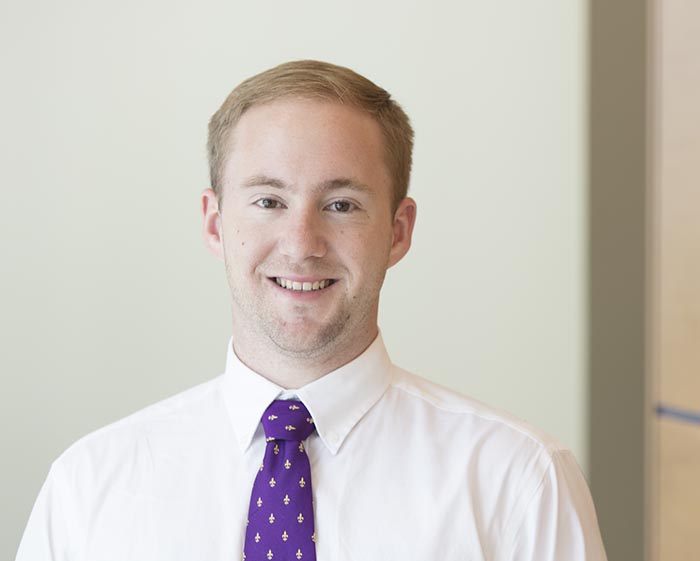 Dr. Robert Wallace
3rd-year Resident
Bone Health during Spaceflight
Klotho is a transmembrane protein, closely linked to FGF-23, that has protective effects against several pathologic states including vascular dysfunction, fibrosis, inflammation, bone loss.  Many of these pathologic states are known to develop when tissues are exposed to hazards that are present in the spaceflight environment such as low dose radiation and microgravity.  For these reasons, we know that the Klotho-FGF23 axis is a novel endocrine link between bone, kidney, and vascular health in astronauts.  Our findings from this preliminary study of Klotho concentrations in mice subjected to a weightless environment on the International Space Station will serve as the basis for a proposal to directly measure this axis in astronauts and correlate these measurements with altered homeostasis experienced in prolonged zero gravity.
Faculty Interests
Cardiovascular disease and health disparities

Social determinants of health and health behaviors

Bone Metabolism during spaceflight

Acute Kidney Injury and diagnostics

Sepsis and diagnostics

Infection control and quality improvement

Graduate Medical Education
A Sample of Peer-Reviewed Publications:
Caffery TJ, Jagneaux T, Jones GN, Stopa E, Freeman N, Quin CC, Long AC, Zatarain L, Musso MW. Residents' Preferences and Performance of Three Techniques for Ultrasound-Guided Central Venous Cannulation After Simulation Training. Ochsner J, 18(20):146 – 150. PMID:30258296 
Crawford K., DeWitt A, Brierre S., Caffery T, Jagneaux T, Thomas C, MacDonald M, Tse H, Shah A, Di Carlo D, O'Neal, HR. Rapid Biophysical Analysis of Host Immune Cell Variations Associated with Sepsis. Am J Respir Crit Care Med, 198(2): 280-282 PubMED ID: 29630392
Jeha GM, Wesley T, Cataldo VD. Novel Translocation in Acute Myeloid Leukemia: Case Report and Review of Risk-Stratification and Induction Chemotherapy in Patients With Acute Myeloid Leukemia. J Hematol. 2020;9(1-2):13-17. doi:10.14740/jh605
Kinnucan J, Binion D, Cross R, Evans E, Harlen K, Matarese L, Mullins A, O'Neal B, Reiss M, Scott FI, Weaver A, Rosenberg J. Inflammatory Bowel Disease Care Referral Pathway. Gastroenterology. 2019 Jul;157(1):242-254.e6. doi: 10.1053/j.gastro.2019.03.064. Epub 2019 Apr 10.PMID: 30980795
M. Foy, J Vaishnav, CJ. Sperati. Drug-Induced Hypertension. Endocrinol Metab Clin North Am, 48(4): 859-873. PMID 31655781
Mukku VK, Cassidy E, Negulescu C, Jagneaux T, Godke J. Large Spontaneous Right Catamenial Pneumothorax with Diaphragmatic Defect and Liver Herniation. Case Rep Pulmonol, 2019(5). PMID: 31263617
Walker, M., Hamer, D., Musso, M., O'Neal, C., Thomas, C., & O'Neal, H., Jr. (2018). 2151. Accuracy of Physician Adjudication of Infection in Patients with Systemic Inflammatory Response Syndrome (SIRS). Open Forum Infectious Diseases, 5(Suppl 1), S633–S634. PMCID: PMC6252822
Walker, M., Sheets, J., Hamer, D., & O'Neal, C. (2018). 2052. Performance of the Biofire Filmarray Meningitis/Encephalitis Panel in Cryptococcal Meningitis Diagnosis. Open Forum Infectious Diseases, 5(Suppl 1), S599. PMCID: PMC6252391
Wesley T, Hamer D, Karam G. Implementing a narrative medicine curriculum during the internship year: An internal medicine residency program experience. Perm J 2018;22:17-187. DOI: https://doi.org/0.7812/TPP/17-187
A Sample of Conference Presentations:
Berlinger, M., Hamer, D., Musso, M., Walker, M., Bliss, K., Volz, E., Laurent, M.E., Caffery, T., Alwood, S., Brierre, S.A. and Jagneaux, T, 2019. Systematic Use of Lactic Acid Levels to Comply with Sepsis Guidelines May Result in Overtreatment of Non-Septic Patients. In D104. CRITICAL CARE: A FINE BALANCE-SEPSIS DEFINITIONS, OUTCOMES AND EPIDEMIOLOGY (pp. A7154-A7154). American Thoracic Society. May 22, 2019
Bourgeois, D, Thibodaux, R. HINTS TO A DIAGNOSIS OF MULTIPLE SCLEROSIS 2019 National American College of Physician's Meeting. April 23-25, Philadelphia, PA.
J. Hoang, D. Hamer, M. Musso, C. Thomas. "Heroin Overdose: demographics, treatments, and outcomes from an ICU perspective. 202 Critical Care Congress, Orlando, FL.
K. Bliss, D. Hamer, M. Musso, M. Berlinger, M. Walker, M. Sanchez, S. Alwood, T. Caffery, C. Thomas, B. O'Neal. Disparities in Emergency Department Presentation of Sepsis by Race and Block". ACEP, Denver, CO.
M. Walker, S. Buras, M. Young, B. Mellor, M. Mitchell, C. O'Neal. "Implementation of a multi-step diagnostic algorithm for C. diff infection". IDweek 2019, Washington, DC.
Rauch T, Tatum D, Clark S. The Impact of Frequent Phlebotomy in a Testosterone Therapy Donor Population. 2018 AABB Annual Meeting, October 13 – 16 2018, Boston MA.