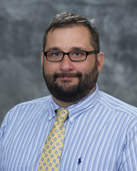 Troy Guidry, M.D.
Family Medicine
Department of Family Medicine
LSUHSC-University Hospitals and Clinics
Troy Guidry, M.D. grew up on a rice farm in Lake Arthur, LA.  He gradated from McNeese University with a Bachelor of Science Degree in Marketing and went on to receive an MBA from McNeese as well.  He is a graduate of the LSU Health Sciences Center in New Orleans and moved on to Lafayette where he completed his Family Medicine residency.  He is interested in resident wellbeing, minor surgery, sports medicine and joint injections.  His hobbies include family activities, hunting, fishing and all things outdoors.