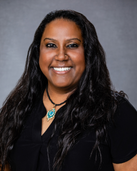 Dear Prospective Resident:
When I was a family medicine resident getting ready to graduate, I had not realized how instrumental completing my geriatric medicine fellowship would be to my career. Albeit, it was the best decision I had made, both professionally and personally. My passion for caring for the elderly only grew during fellowship. Additionally, completing this fellowship has given me the unique and special skill in taking care of this vulnerable yet imperative population.

The Geriatric Medicine Fellowship Program in Lafayette is leading the area's medical community towards improved health care for the elderly of Louisiana. Through advanced education of physicians, we seek to improve the quality of geriatric inpatient and outpatient care by enhancing the geriatric patient's functional level, nutritional status and psychological state. Our program is a year-long concentrated and longitudinal experience available to Family Medicine and Internal Medicine residency program graduates. Clinical experiences include the inpatient geriatric consultation service, hospice and palliative care, geriatric psychiatry, rehabilitation, specialty clinics, elective/research, geriatric primary care and consultation clinics, and nursing home experiences.

Our goal is to provide our fellows with outstanding clinical training so as to promote overall wellness and optimize the health of our geriatric patients. We live in a time where people are living longer and require specialized care, which makes the field of geriatrics unique and very much in demand.
I welcome you to apply for our geriatrics fellowship program and assume the privilege in taking care of the elderly!
Thank you,

Susila Shanmuganathan, MD, CMD
Interim Program Director
Geriatric Medicine Fellowship Program
LSU School of Medicine, Lafayette
Ochsner University Hospital and Clinics
Lafayette, LA


​Family Medicine or Internal Medicine residents interested in Geriatric Medicine are invited to apply. This program is accredited by the ACGME, and graduates of the program are eligible to obtain a Certificate of Added Qualifications in Geriatric Medicine.
​