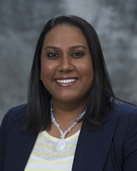 Susila Shanmuganathan, M.D.
Geriatric Medicine
Department of Family Medicine
LSUHSC-University Hospitals and Clinics
Susila Shanmuganathan, M.D. is a Clinical Assistant Professor of Family Medicine/Geriatric Medicine at LSU Health – University Hospital & Clinics, Lafayette, Louisiana.  She has been a part of the Faculty since July 2016.
Born and brought up in Houston, Texas, Dr. Shanmuganathan attended The University of Texas at Austin, receiving a Bachelor of Arts in Human Ecology with a concentration in Nutrition.  She graduated with Honors from medical school in 2012 from American University of Antigua, after completing the first two years abroad in Manipal, India. She completed her Family Medicine Residency along with a Fellowship in Geriatric Medicine at University Hospital & Clinics, Department of Family Medicine. She is a Diplomate of the American Board of Family Medicine, certified in 2015. Apart from being LSU Faculty at UHC, she was recently elected to serve on the Board of Directors for the Louisiana Geriatrics Society, a branch of the American Geriatrics Society. She has a strong connection to the Family Medicine Department as she completed both Residency and Fellowship Programs at the same institution. She continues to have strong ties with ULL and serves as one of the Staff Physicians for the ULL Men's Basketball Team.
On her free time, Dr. Shanmuganathan likes to spend time with family and friends, enjoys playing the piano and singing karaoke, and loves to cook!