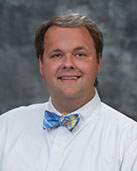 Nicholas Sells, M.D.
Infectious Disease
Section Chief, Department of Medicine
Director of Infectious Diseases, HIV and Viral Hepatitis Clinics
LSUHSC-University Hospitals and Clinics
Nicholas Sells, M.D. is the Section Chief of the Department of Internal Medicine as well as the Director of Infectious Diseases and our HIV and Viral Hepatitis Programs here at University Hospital and Clinics.  Clinical interests include HIV, Viral Hepatitis, HIV/Hep C Coinfection, HIV Pre-Exposure Prophylaxis, GLBT Medicine, Antimicrobial Stewardship and General Infectious Diseases.  Dr. Sells attends on Infectious Diseases Consult Services, Antimicrobial Stewardship Services, General Medicine Wards Services as needed and Outpatient Infectious Diseases Clinic, HIV clinic, PrEP Clinic and Hepatitis C clinic.  He serves on several committees in the health system, hospital and community.  Research interests include HIV/Hep C coinfection, graduate medical education, viral hepatitis and healthcare disparities, fosfomycin and urinary pathogens.