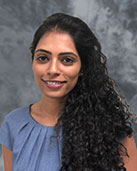 Nethuja Salagundla, M.D.
Internal Medicine
Department of Internal Medicine
LSUHSC-University Hospitals and Clinics
 
A native of India, Dr. Salagundla moved to China at the age of 16 to finish medical school at Dali University. She graduated as one of the top three students and received multiple scholarship awards for her performance.
Dr. Salagundla worked in Emergency medicine for a year before moving to the United States to pursue her career in Internal Medicine. She completed her residency in Amarillo, Texas at Texas Tech and was also selected as chief resident. In 2019, she moved to Lafayette to pursue a career in academics.
Dr. Salagundla is board certified in Internal Medicine and enjoys teaching and research. She received the Dean's Scholarly Activity award as a resident and is looking forward to continue teaching, research and quality improvement here in Lafayette.