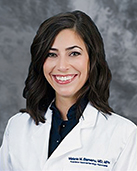 Melanie Bienvenu, M.D., MPH
Gastroenterology 
Department of Internal Medicine
LSUHSC-University Hospitals and Clinics
Dr. Melanie M. Bienvenu is a native of Opelousas, Louisiana.  She attended Louisiana State University in Baton Rouge where she graduated Summa cum laude with a Bachelor of Science degree in Biological Science.  She continued her education at Louisiana State University Health Science Center School of Medicine in New Orleans, Louisiana, where she received her Doctor of Medicine and a Masters of Public Health in 2008.  Upon graduation from the Louisiana State University Health Science Center, Dr. Bienvenu was awarded the Chancellor's Award and the G. Gordon McHardy Award in Gastroenterology.   
Dr. Bienvenu completed her Internship and Residency at the University of Alabama at Birmingham in Internal Medicine in 2011 where she was awarded the Most Distinguished Senior Resident Award. She completed a fellowship in Gastroenterology and Hepatology at the Medical University of South Carolina in Charleston in 2014. She received additional training in Endoscopic Ultrasound, Endoscopic Mucosal Resection, and Cryotherapy and Radiofrequency Ablation of Barrett's Esophagus. Upon completion of her post-graduate training, she worked in private practice for four years in the Lafayette area.
She is Board Certified by the American Board of Internal Medicine in Gastroenterology and Hepatology.  
Dr. Bienvenu enjoys cooking, traveling, reading, and mostly her family.  She is married to John Michael Bienvenu of Lafayette, LA.  They have three children, Cecilia, Elijah, and Cole.