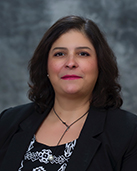 Linda Ogé, M.D.
Family Medicine
Section Chief, Department of Family Medicine
LSUHSC-University Hospitals and Clinics
Linda K. Ogé, M.D. is a Clinical Assistant Professor of Family Medicine at LSU Health-University Hospital and Clinics in Lafayette, LA. She is a native of Crowley, Louisiana and a "Rajun Cajun" for life, having attended the University of Louisiana at Lafayette where she obtained an undergraduate degree in Biology. She matriculated at Louisiana State University School of Medicine in New Orleans, graduating in 1992 and receiving multiple honors including the Janet M. Glasgow Memorial Award, the Kornberg Award in Medical Biochemistry, G. John Buddingh, MD Microbiology Award, and the Pharmacology Award. She returned home to Acadiana to complete a residency in Family Medicine at LSUHSC University Medical Center in Lafayette.
During her residency, Dr. Ogé served as chief resident for two academic years and was selected Resident Teacher of the Year for 1994 and 1995. After graduation, she spent 12 years practicing the full spectrum of family medicine in the private sector, and was selected as the "Best Primary Care Physician" by the Times of Acadiana in 2005.
Dr. Ogé's love for a culture of inquiry and her desire to serve the patients most in need in her community drew her to the Department of Family Medicine at University Medical Center in 2007. Areas of special interest in medicine include the doctor-patient relationship, pediatrics and women's health. She currently serves a board member for community nonprofit organizations, Woman's Foundation and Maddie's Footprints and volunteers at the Lafayette Community Healthcare Clinic. Personal interests include movies, travel and live music.