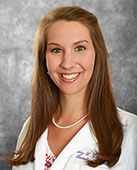 Libby Going, M.D.
Family Medicine
Department of Family Medicine
LSUHSC-University Hospitals and Clinics
Libby Going, M.D. is a Clinical Assistant Professor of Family Medicine at University Hospital & Clinics. 

Dr. Going attended Louisiana State University where she obtained an undergraduate degree in Biology. She then received her medical degree from LSUHSC in Shreveport, LA and completed her Family Medicine residency in Lafayette at UHC. She was in private practice in Lafayette, LA before returning to the Department of Family Medicine at UHC as a faculty member. 
Dr. Going's special interests include preventive medicine and minor procedures. She spends her time outside of work enjoying her small children.