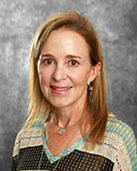 Karen Curry, M.D.
Internal Medicine
Program Director, Department of Internal Medicine
LSUHSC-University Hospitals and Clinics
Dr. Curry graduated from LSU School of Medicine in New Orleans in 1991. She completed her residency in Pathology for three years at Oschner Medical Center in New Orleans until 1994, then decided to spend at least one year in clinical medicine.  After her first six months of training here in Lafayette in the Department of Internal Medicine, she knew she needed to stay on the tract of becoming an Internist.  Dr. Curry has enjoyed meeting patients when they first present to our Emergency Room and following them through the years.
After completing her residency training in Internal Medicine in 1998, she stayed at University Hospital and Clinics as an Assistant Professor in Internal Medicine and has been a key clinical faculty in our department for 17 years.  She enjoys the intellectual curiosity of our residents. Over the years at UHC, she has been the Medical Director for Disease Management programs of asthma, diabetes, and congestive heart failure.  She has also held the position of assistant program director for a number of years.
Dr. Curry has been married for 25 years to Thomas Curry, a local Ophthalmologist.  They have two children, Taylor and Davis, Taylor is a senior at LSU in Baton Rouge majoring in Biology and Davis is a senior at a local high school, Episcopal School of Acadiana.  In their spare time, they enjoy biking, sailing, and traveling together.