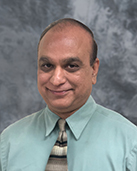 Jay Jaikishen, M.D., FACP
Internal Medicine
Department of Internal Medicine
LSUHSC-University Hospitals and Clinics
 
Dr. Jaikishen completed his residency in Internal Medicine, Nuclear Medicine and Nuclear Cardiology. He is currently an LSU Clinical Associate Professor of Medicine at University Hospital & Clinics (UHC) and has been an LSU faculty member since 1991. He is a fellow of American College of Physicians, board certified and is also specialty and society certified in echocardiograms and cardiac CT angiography.
Dr. Jaikishen is a member of Society of Cardiovascular Computed Tomography and American Society of Nuclear Cardiology. He is in charge of Noninvasive Cardiac Imaging at the Heart Hospital and interprets cardiac studies at area hospitals. He serves as a cardiac imaging consultant for Lafayette General Medical Center (LGMC).
Dr. Jaikishen's areas of expertise include noninvasive cardiac imaging encompassing all modalities from echocardiograms, nuclear cardiac studies, cardiac CT angiography and cost effective cardiovascular evaluation and care. He has published numerous articles and case reports in peer reviewed medical journals as well as local and national ACP meetings. He has also served as a member of the Pharmaceutical and Therapeutics Committee at LGMC.
Dr. Jaikishen conducts grand rounds weekly with LSU students and oversees journal club articles, morning report, monthly mortality conference and daily work rounds on the medical floor, ICU, and Telemetry units with medical residents and students, teaching them ethical professional and cost effective medicine. He also provides guidance to clinic staff regarding appropriate cost effective work up of complex medical problems. He was on special rotation and treated and accepted hospital patients post Katrina from Baton Rouge and New Orleans.