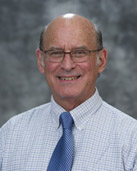 L. Glen Mire, M.D.
Geriatric Medicine
Department of Family Medicine
LSUHSC-University Hospitals and Clinics
L. Glen Mire, M.D. is a Clinical Associate Professor in the LSU Department of Family Medicine at University Hospital and Clinics in Lafayette, LA. He is originally from Thibodaux, LA. He attended Nicholls State University and graduated from LSU School of Medicine, New Orleans in 1973. He completed his internship at San Bernardino County Hospital, San Bernardino, CA. After serving in the US Army in Germany, he completed his Family Medicine Residency at UTMB, Galveston, TX. He and his family came to Lafayette in 1979. He joined the LSU faculty in 1990.
In addition to his duties with the Family Medicine Residency Program, he is one of the core faculty members for the Geriatric Medicine Fellowship. He is Board Certified by the American Board of Family Medicine and holds Certificates of Added Qualifications in Geriatric Medicine and Hospice and Palliative Medicine. He is also Certified Hospice Medical Director. He still maintains a large nursing home practice. He is the Medical Director of River Oaks Retirement Manor and Medical Director of Hospice of Acadiana.
He has finished 13 marathons in 9 states, so far. Most unique accomplishment was completing Pensacola Bay Open Water Swim (3.5 miles) in 1985.