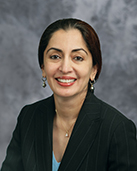 Farha Khan, M.D., MHA
Internal Medicine
Department of Internal Medicine
LSUHSC-University Hospitals and Clinics
 
A native of India, Farha Khan, M.D., MHA has more than 20 years of clinical experience during her prestigious career. Her career includes 10 years of teaching and an additional two years performing a research thesis. In addition to Louisiana, she's lived, worked and studied in North Carolina, Illinois and Wisconsin.

Experience 
Internal Medicine Physician, Lutheran General Hospital (Park Ridge, IL) 
Internal Medicine Physician, Dean Medical Center (Madison, WI) 
Fellowship, National Institute of Environmental Health Sciences, Research Triangle Park (Durham, NC)
Internship, Lutheran General Hospital (Park Ridge, IL) 
Residency, Internal Medicine, Lutheran General Hospital (Park Ridge, IL)  
Education
Pre-Med., Aligarh Muslim University (Aligarh, India)
Bachelor of Medicine, Bachelor of Surgery, Jawaharlal Nehru Medical College (Aligarh, India)
Doctor of Medicine, Jawarharlal Nehru Medical College (Aligarh, India)
Certification
Board Certified - American Board of Internal Medicine
Honors and Awards
1988- Gold Medal in ENT and Obstetrics and Gynecology
1995- Chairman's Award, Internal Medicine, Lutheran General Hospital