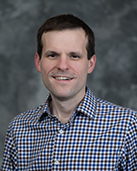 Daniel Stout, M.D.
Endocrinology
Department of Internal Medicine
LSUHSC-University Hospitals and Clinics
 
Dr. Stout graduated summa cum laude with a Bachelor of Science from the University of Louisiana at Lafayette before earning his Doctor of Medicine from the LSUHSC School of Medicine in New Orleans.  He completed his Internal Medicine residency at Earl K. Long Medical Center in Baton Rouge, and then proceeded to fellowship in Endocrinology at the University of Alabama at Birmingham.  Upon completion of his post-graduate training, he worked in private practice for six years in the Lafayette area.
Dr. Stout serves as a member of our core faculty.  He attends on both general medicine wards and the inpatient Endocrinology service as well as general outpatient Endocrinology clinics.  He is the Director of the Diabetes Education Program as well as coordinator of the department's faculty research and scholarly activity program.  His interests' include diabetes mellitus and primary hyperparathyroidism. He is experienced in performing ultrasound guided fine needles aspiration of the thyroid.
A native of Opelousas, LA, Dr. Stout is married and has a young daughter. In his spare time, he and his family enjoy traveling together.