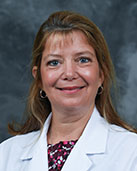 Deidre Stelly, M.D.
Family Medicine
Department of Family Medicine
LSUHSC-University Hospitals and Clinics
 
Dr. Deidre Stelly joined the Family Medicine faculty at LSU Health-University Hospital & Clinics in Lafayette, Louisiana as Assistant Clinical Professor of Medicine in 2018.  She received  her undergraduate degree from Tulane University and graduated from Louisiana State University School of Medicine in New Orleans in 1994. After completion of her Family Medicine Residency in Lafayette, Louisiana, Dr. Stelly practiced Family Medicine in Breaux Bridge, Louisiana, for twenty years. Throughout her career Dr. Stelly provided outpatient, inpatient and nursing home care for her patients. She is past president of the St. Martin Parish Medical Society is an active member of the AAFP, LAFP and LSMS. 
Dr. Stelly is married to Dr. Alan Broussard, who is also a graduate of LSUMC School of Medicine.  They have three teenage sons; Paul, Jacob, and Adam.