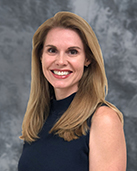 Ann Chauffe, D.O., MPH
Rheumatology
Department of Internal Medicine
LSUHSC-University Hospitals and Clinics
Dr. Ann Chauffe is a native of Florida and received her medical degree and master degree in public health from Nova Southeastern University College of Osteopathic Medicine in Ft. Lauderdale, Florida in 2007. She then went on to complete an internal medicine residency at Pennsylvania Hospital of the University of Pennsylvania, where she was selected as chief resident. She returned to Florida, the University of Florida, for her Rheumatology fellowship in 2011. Following her rheumatology training, she was selected as a NIH T-32 Research fellow focusing on inflammatory muscle disease (myositis) and osteoarthritis. She stayed on staff at the University of Florida and its affiliate VA Hospital where she was successfully awarded grant funding, Veteran's Affairs RR&D Career Development Award, investigating the effects of a molecule, Thymosin Beta 4, in a mouse model of osteoarthritis. Her husband, Dr. Ryan Chauffe an interventional cardiologist, hails from Breaux Bridge, Louisiana and they moved to Lafayette in 2015. She initially commuted to Ochsner Clinic in Baton Rouge, but in 2018 joined Louisiana State University at University Hospital and Clinics in Lafayette to re-focus on teaching and research.
Dr. Chauffe is board certified in Rheumatology and Internal Medicine, and has received several awards, including the University of Florida Excellence in Teaching, American College of Osteopathic Internists Humanism in Medicine & Teaching, and Florida Osteopathic Medical Association Student of the Year. In her time off, Dr. Chauffe enjoys spending time with her husband and two small girls, working out, and traveling the world, often providing medical care to the underserved.