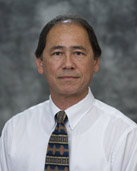 Alan Broussard, M.D., MT
Family Medicine
Associate Program Director, Department of Family Medicine
LSUHSC-University Hospitals and Clinics
Alan Paul Broussard, M.D. is a Clinical Assistant Professor of Family Medicine at LSU Health-University Hospital & Clinics, Lafayette, Louisiana. 
A native of Baldwin, LA and a graduate of Franklin Sr. High School, Dr. Broussard obtained a BS in Medical Technology from LSU Medical Center-New Orleans in 1986.  Prior to entering medical school in 1990, Dr. Broussard was employed as a medical technologist at University Medical Center, Lafayette, LA.  He graduated from LSU Medical Center School of Medicine-New Orleans in 1994 and completed his family medicine training at University Medical Center in 1997.
Dr. Broussard joined LSU Health Sciences Center in 2002 after fulfilling an obligation with the National Health Service Corps.  He was recertified by the American Board of Family Medicine in 2003 and 2013.  He has special interest in medico-legal medicine. 
Dr. Broussard is married to Dr. Deidre Stelly, who is also a graduate of LSUMC School of Medicine.  They have three teenage sons; Paul, Jacob, and Adam.