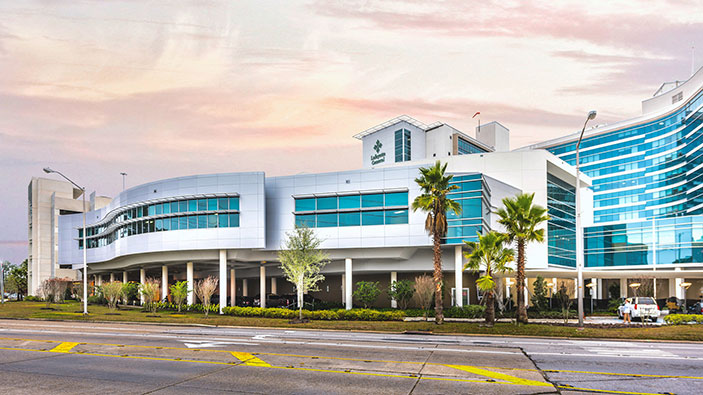 Ochsner Lafayette General Medical Center
​Ochsner Lafayette General Medical Center (OLGMC) staffs a total of 477 beds, including 342 at its main campus and 111 at its Southwest campus and 24 at the Behavioral Health Unit. It is the largest full-service, acute-care medical center in Acadiana. OLGMC provides families with comprehensive medical services at every level of care, from severe emergency trauma to the common cold. Our vision is to be a premiere teaching facility and the hospital of choice for patients, physicians and employees.

Ochsner Lafayette General has the busiest emergency department in Acadiana and handles the highest level of trauma in the region. The hospital's 34-bed adult intensive care unit (ICU) is staffed 24/7 by intensivists (physicians specializing in critical care), while the 31-bed neonatal intensive care unit (NICU) boasts benchmark status in Key Performance Indicators by the Vermont Oxford Network.
Our full-service, tertiary care facility offers a highly trained staff and excellent physicians to bring about positive patient outcomes. We are proud to offer FREE valet parking to all patients, families and visitors. Ochsner Lafayette General Medical Center is recognized by federal and state tax laws as a 501(c)(3) not-for-profit corporation. As a community-owned and managed hospital, all decisions are made locally by an experienced administrative team and a volunteer Membership Corporation and Board of Trustees.
​The Medical Center evolved from Lafayette Sanitarium, a six-bed facility that opened in 1911, and has been a leader in health care throughout its existence. Over the years, OLGMC has expanded its services and facilities to meet the community's growing needs, earning the distinction as an Accredited Cancer Program, Advanced Certified Primary Stroke Center an Accredited Center for Metabolic and Bariatric Surgery, a Breast Imagine Center of Excellence, and a Blue Cross Blue Shield Blue Distinction Center in Maternity Care and in Bariatrics. A leader in technology, OLGMC was the first to bring the da Vinci® (a robotic surgical system), CyberKnife® (a stereotactic radiosurgery system) MAKOplasty Orthopedic Surgery and BrightMatter Servo brain surgery to Acadiana.