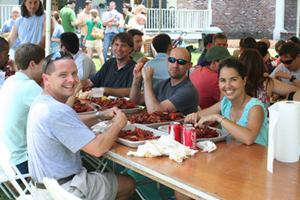 Life in Baton Rouge
Situated on the East Bank of the Mississippi River, the City of Baton Rouge is an industrial and educational center rich in cultural attractions. As the capital of Louisiana, Baton Rouge offers a semi-tropical climate, excellent food and a colorful history. The city of Baton Rouge and East Baton Rouge parish have a population of approximately 400,000 residents.
Home is where you make it, and in Baton Rouge and its surrounding area, there is an eclectic blend of old and new subdivisions with modern and traditional styles of houses, condominiums and apartments. Museums, art galleries, a symphony, opera and ballet, historic districts, a zoo and numerous educational and entertainment exhibits come together in a metropolitan setting.
Louisiana State University and Southern University are excellent universities - each offering a full slate of quality athletic events. Shopping opportunities, antebellum plantations and, of course, world-class cuisine grace the area. New Orleans lies just 75 miles to the south, and Lafayette only 50 miles west (via Interstate 10).
More than 300 festivals offer individuals and families ample opportunities to sample the state's rich heritage and friendly disposition. Called the "Sportsman's Paradise," hunting and fishing are plentiful in Louisiana and the Gulf of Mexico.
Baton Rouge is proud of an extensive, nationally recognized park system. More than 136 parks comprised of six golf courses, 131 tennis courts, 34 recreation centers, six swimming pools, two campgrounds, a cycling velodrome, an equestrian center, 20 soccer fields and 136 softball and baseball diamonds are scattered throughout the community of Baton Rouge.
Come work with us and see why many call Baton Rouge home.
Below you will find helpful links that provide information about relocating to the Baton Rouge area: