Welcome from the Chair | Internal Medicine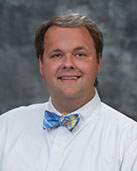 Thank you for taking the time to view our Internal Medicine Program website. We certainly hope you will take the time to peruse the pages herein and familiarize yourself with our program's information.  We also hope that you consider us as a strong contender as you begin to make the decision of where to spend the next stent of your training. 
The Department of Medicine at University Hospital & Clinics continues to strive for excellence in our day-to-day practices with the goal of introducing innovation in the delivery of high quality, patient centered, evidence based healthcare to the patients we serve.  With strong commitments from both our medical school as well as hospital administration, we continue to promote our mission with the expansion of services, faculty, and successful programs. 
While our department has busy inpatient general internal medicine services, a large and thriving outpatient internal medicine clinic practice, and a host of busy subspecialty services, the internal medicine residency program lies at the heart of our department, which is where we like it to be. Graduate Medical Education is paramount to our faculty, staff and administration and it is with this fervor that we approach our residency program.  With an evolving didactic curriculum, a host of pathology, a supportive administration and medical school, and a breadth of rotational experiences to provide a robust education, at the end of your training you will be prepared to confidently enter the workforce or fellowship without reservation.  Part of our commitment to your education is also helping our trainees develop into educators as well.  The professional development of our young physicians has never been more paramount than it is today. 
The gestalt of our department, the "IT", the organized whole that is more than the sum of its parts, is the most difficult to articulate.  The sum of all we are and strive to be, the "secret sauce" if you will, is difficult to summate, but trust me when I say, I feel we have "IT" and would love for you to visit us, speak with our housestaff and see the culture of our department.  With our diversity, the commitment to quality patient care, the commitment to our residents and the commitment to innovative graduate medical education, we are committed to our mission--to provide a powerful training experience through high quality patient centered evidenced based healthcare. 
Thank you again for viewing our webpage, I do hope you will consider us for your training, I know you will find "IT" here!
 
All the Best,

Nicholas Sells, M.D.
Section Chief, Department of Medicine
Director of Infectious Diseases, HIV and Viral Hepatitis Clinics
LSUHSC-University Hospitals and Clinics