Welcome to the Anesthesiology Residency Program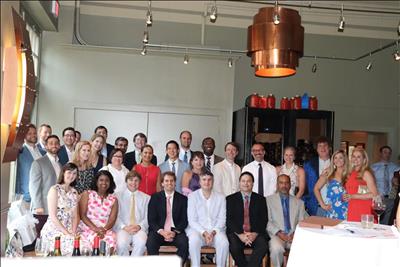 Welcome to the web site for the LSU School of Medicine Department of Anesthesiology. You will see that we emphasize postgraduate education in anesthesiology and opportunities to develop clinical and research skills in all aspects of anesthesiology and pain medicine.
In October 2008, we were approved by the Residency Review Committee (RRC) for an independent anesthesia residency program, which began July 1, 2009 and graduated its first class in June 2012. LSU also has one of the largest Certified Registered Nurse Anesthetist (CRNA) training sites in the United States.
Although, we have had to deal with the damages from Hurricane Katrina at our clinical hospitals in New Orleans, we are very excited about the rebuilding efforts that have been undertaken leading to a new state of the art billion dollar hospital complex. This facility opened in August 2015. We are excited to be serving the New Orleans community at University Medical Center (UMC), which is a level one facility that is internationally known for trauma, and Ochsner Medical Center-Kenner.
New Orleans is a vibrant city with many activities including Mardi Gras and the New Orleans Jazz and Heritage Festival. There are professional sports team, including the New Orleans Saints in football, the New Orleans Pelicans in basketball and the New Orleans Baby Cakes in baseball. We are optimistic about our future as the city rebuilds. We welcome inquiries and hope this site gives you some sense of the flavor of our department, which although continuously evolving, remains close-knit and informal.
Without doubt, the success of our department is directly related to our outstanding faculty, staff, and residents. We are all most grateful to serve this region as a leader in anesthesia, critical care, and interventional pain management.
James Riopelle, MD
Professor and Interim Head
Department of Anesthesiology
Apply to Our Program
The LSU Anesthesiology Residency Program is looking for exceptional candidates to join our dynamic team.
Programs

Click here to find out more about our Anesthesiology Residency Program                                                  

 

Click here to find out more about the Nurse Anesthesia Program

Contact Us

Department of Anesthesiology
1542 Tulane Ave, Room 659
New Orleans, LA  70112

Phone:  (504) 568-2315
Fax:       (504) 568-2317
Donations

If you are interested in donating to the Department of Anesthesiology,

please contact Leslie Brunious at (504) 568-2314                                                                                                                                

                                                                                                                             

or 

Donate via The LSUHSC Foundation