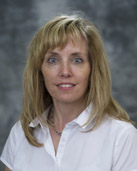 Lanie Moncada, M.D.
Program Director, Geriatric Medicine, Department of Family Medicine
LSUHSC-University Hospitals and Clinics
Lainie V. Moncada, M.D. is the program director of the LSU (Lafayette) Geriatric Medicine Fellowship Program at University Hospital and Clinics.  She has an appointment as an Associate Professor of Clinical Medicine in the Department of Family Medicine, LSU School of Medicine in New Orleans.  She is a diplomate of the American Board of Internal Medicine and has a Certificate of Added Qualification in Geriatric Medicine.
After graduating from the LSU School of Medicine in New Orleans in 1998, she completed a residency in internal medicine there in 2001.  She subsequently completed a clinical and research geriatric medicine fellowship at Johns Hopkins School of Medicine in Baltimore, Maryland in June 2003.  Dr. Moncada is also a member of the Louisiana Geriatrics Society and the American Geriatrics Society.