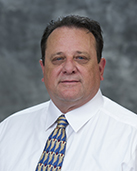 Lonn Guidry, M.D., FACP
Department of Internal Medicine
LSUHSC-University Hospitals and Clinics
 
Lonn Guidry, M.D., FACP is a native of Lafayette, LA.  He attended Northside High School and graduated Magna cum Laude from the then University of Southwestern Louisiana (USL) with a Bachelor of Science in Biology/Chemistry.  From then he went on to LSU Medical School in New Orleans and completed his Internal Medicine Residency at University Medical Center, now named University Hospital and Clinics. He worked in the private sector for 5 years before accepting a position as faculty for the Internal Medicine Program. 
He has served as Medical Director of various nursing homes within the Acadiana area and is a medical staff member Oceans Behavioral Hospital, in Broussard, LA.  He has a 1st degree black belt in Judo/Jujitsu and enjoys salt water coastal fishing, professional football, classic films, rock and roll and 20th century history. 
His clinical and research interests include care of the elderly and infirm, nutrition and alternative medicine.