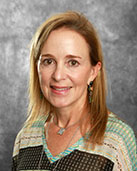 Karen Curry, M.D.
Program Director, Department of Internal Medicine
LSUHSC-University Hospitals and Clinics
I graduated from LSU School of Medicine in New Orleans in 1991. I did a residency in Pathology for three years at Oschner Medical Center in New Orleans until 1994, then decided I needed to spend at least one year in clinical Medicine.  After my first 6 months of training here in Lafayette in the Department of Internal Medicine, I knew I needed to stay on the tract of becoming an Internist.  I have enjoyed meeting patients when they first present to our Emergency Room and following them through the years.
After completing my residency training in Internal Medicine in 1998, I stayed at University Hospital and Clinics as an Assistant Professor in Internal Medicine.  I've been a key clinical faculty in our department for 17 years.  I enjoy the intellectual curiosity of our residents. Over the years here, I have been the medical director for disease management programs of asthma, diabetes, and congestive heart failure.  I was also assistant program director for a number of years.
I've been married for 25 years to Thomas Curry, a local Ophthalmologist.  We have two children, Taylor and Davis. Taylor is 21 and a senior at LSU in Baton Rouge majoring in Biology. Davis is a senior at a local high school, Episcopal School of Acadiana.  We enjoy biking, sailing, and traveling together.